Um, what? Blac Chyna is now partnering with a company called 'Whitenicious,' and understandably, people are not OK with this latest business venture. See the backlash, here.
Blac Chyna, 30, is seeing her new product as a solution for dark spots, and the public is seeing it as problematic. The model is launching a skin lightening cream, Whitenicious X Blac Chyna Diamond Illuminating & Lightening Cream, in partnership with Whitenicious by Dencia, TMZ reported on Nov. 19. The bottles, which will be embellished with Swarovski crystals, are $250 each, the outlet added. The company markets itself as a skincare line that fights "hyperpigmentation" and "dark spots," and Chyna has been using Whitenicious' dark spot corrector to address her hyperpigmentation, her reps told TMZ. But Chyna's new cream certainly didn't advertise that purpose to fans, given her business partner's name!
ICYMI – Azealia Banks Slams Kim Kardashian For 'Completely Ruining' Kanye West
Apparently, Chyna's skin cream doesn't have a specific racial or gender demographic, although she felt it was "a good deal for her because a lot of women of color suffer from skin issues," TMZ added. But one fan called it "skin bleaching cream," versus a dark spot corrector, and many more Twitter users were on the same page. "Wtf is going on. What happened to black is beautiful? Jesus take the wheel!!!!" a second person tweeted on Monday. "@BLACCHYNA is endorsing skin lightening products? Okay…this ain't it," a third user tweeted. And there was even more criticism that Chyna's selling out! "Blac Chyna is cashing in on a beauty product — a controversial one — she says she's been using for skin care," rapper Willie D wrote, and continued, "Money over everything right?"
READ MORE – 6 year old girl strangles her younger brother with a seat belt while they were left alone in car by dad who went shopping
One fan even suggested that Chyna's recent business venture stemmed from her child support battle with ex-boyfriend Rob Kardashian, 31. "Now that Rob doesn't pay her 20k she needs any source of income now people!! ? " the Twitter user wrote. As we've told you on Nov. 13, the Keeping Up with the Kardashians star's court documents have come forward, in which he allegedly stated that he wished to lower his monthly child support payments of $20,000. But in a now-deleted Instagram video, the mother to his two-year-old daughter, Dream, suggested he wasn't paying her at all! "Work Hard , Play Harder !!! My sh*t !!! No Help !!!…No Child Support !!! Stop the F***ing Lies," Chyna captioned a video of her luxury car collection. Well, it looks like she'll be relying on Whitenicious to support her "Play Harder" lifestyle.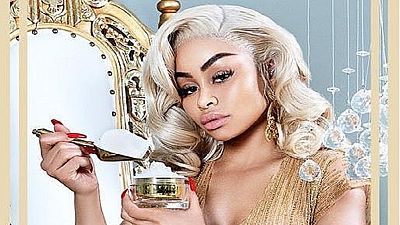 Blac Chyna is cashing in on a beauty product — a controversial one — she says she's been using for skin care. Money over everything right? BC is partnering with Whitenicious by Dencia… https://t.co/jh46ccRj1q
— Willie D (@WillieDLIVE) November 19, 2018
Blac Chyna is actually coming to naija go sell bleaching cream to you people ?? OK
— King Ali ? (@Loladeali) November 18, 2018
Yet again, Chyna's project has been met with Twitter's sharp tongue. She dropped her debut single "Deserve" on Nov. 5, and contrary to its name, fans didn't think the track deserved their praise. "I'm blocking anyone who claims that this Blac Chyna song bangs," one person tweeted, among other critics.